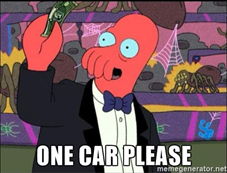 As you hopefully have already noted, there have been some changes to the way the cost report is handled at FSA and FSG this year.
While the switch to standard cost tables has been a big improvement to the photoshop contest cost event, the fact that the resultant BOM prize was scored still provided incentive enough to "optimize", "get creative" and have heated discussions with the judges whether or not your monocoque is made from only two plies of CFRP and if you really get upright-shaped aluminium slugs from your supplier.
By eliminating the final price as a scoring element all focus shifts to accuracy. Also, the 1000-car production run premise has been removed as it often clashed with the more artisan production methods employed on the prototype.
If you are still not sure what we are on about, take a look at this short presentation that also contains Q&A relevant to the FSG that not all of you may be aware of: